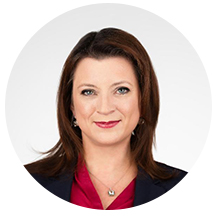 Regional Director of Diplomatic and Corporate Travel
Ursula McNamara is Washington, DC's hospitality ambassador with over 18 years of experience as a hotel executive representing the diplomatic community with major hotel chains such as Hilton, Choice Hotels, and InterContinental Hotel Groups (IHG). She serves as a diplomatic liaison to select venues that are best matched for your program agenda and budget, effectively negotiate vendor contracts, execute event logistics, facilitate security protocols, and deliver high-quality results. You can expect meticulous handling of strategic details, creative solutions, and understanding of diplomatic protocols to execute the highest-level of customer service 24-hours a day. Clients include former Secretary of State, Presidential Candidates, Foreign Ministers, and Politicians.

Actively involved with The Consular Cops of Washington, DC and Protocol & Diplomacy International – Protocol Officers Association. Currently studying for the Certified Meeting Professional exam. Besides English, she speaks conversational German.